Assessing Industry Strength
Look at the returns of recent IPOs in the same industry for clues about how investors might respond to another deal in that sector.
If every technology IPO flies up right out of the gate, you can feel more confident about the next tech IPO that comes along.
If a sector is trading poorly, that generally weighs on investors' minds.
IPOs are more "popular" in some instances than others. As we talked about in the first step of the MUSCLE Method (Market), the IPO market performance has a major impact on deal performance.
Industry strength is the same idea, just a step further.
Renaissance U.S. IPO Index
Industry momentum helps predict an IPO's near-term performance.
Group momentum can change on a dime. Know which sectors are in or out of favor by reviewing the returns of similar IPOs from the past year. Examine their charts to get one short-term predictor of an IPO's performance.
Even if an IPO has strong fundamentals, poor trading from peers can indicate trouble in the near term. It may turn out to be a great long-term investment. But "fighting the tape" is especially risky with volatile IPOs, and you may get a much more attractive entry point if you wait until the winds are at your back.
Conversely, if the group is white hot, an IPO's initial trading often amplifies that sentiment. However, be cautious when valuations get dangerously high.
Of course, it's ideal to buy a solid business in well-loved industry. To determine that, you'll need to look at its Core Fundamentals (step #4).
Where is Strength of Industry on IPO Pro?
On every profile, and industries have their own screen!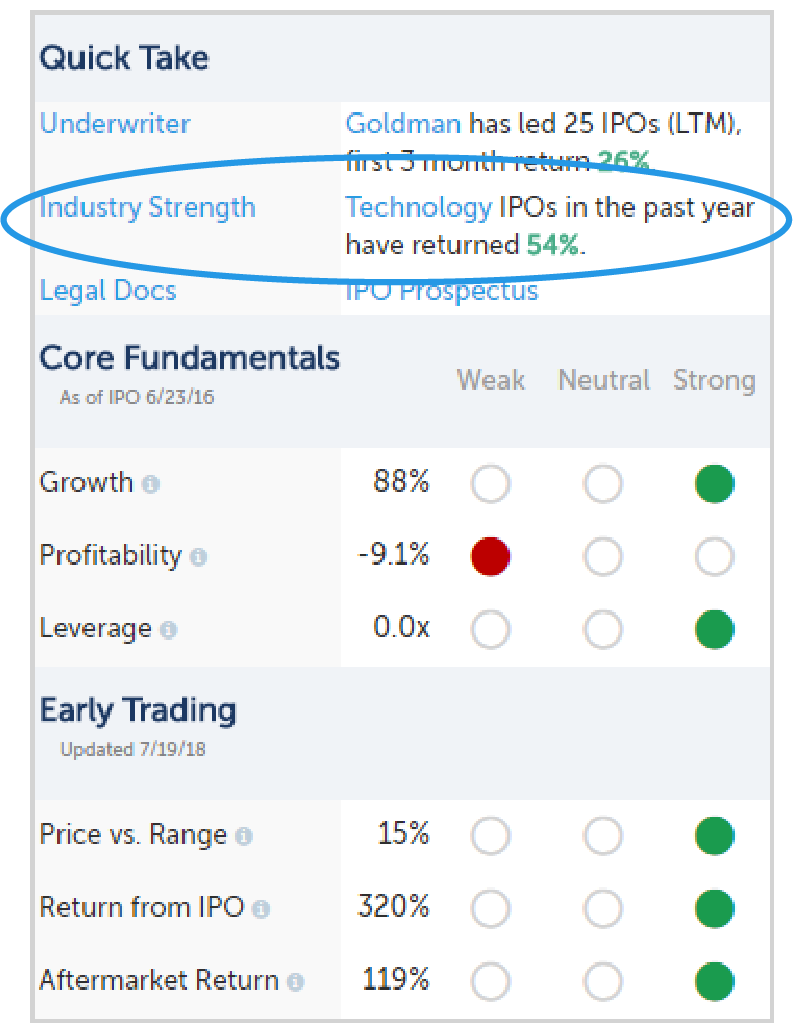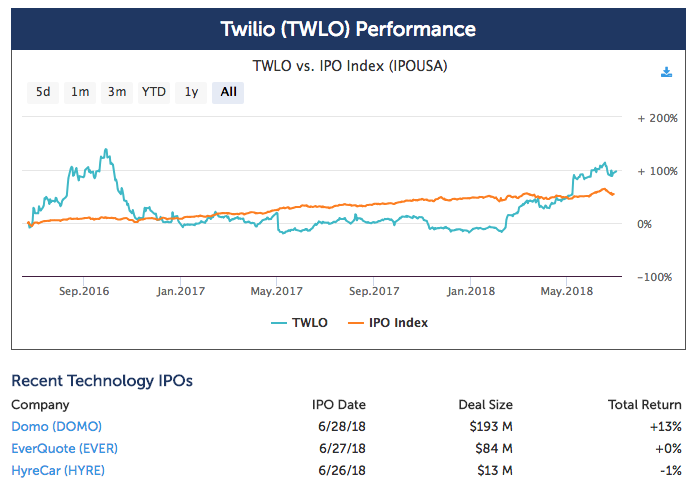 Looking at Twilio's profile, IPO Pro shows the Industry Strength in the Quick Take box below Underwriter. Industry performance is given over the past year. To the right of the Quick Take box there is a performance chart for the deal, and below it three companies in the same industry and their stats.
To look at performance broken down by industry, go to the IPO Pro Industry Screen. You can drill down to look at the entire industry in any time frame.